Arne Kern Wins 2018 WSOP Millionaire Maker and $1.17M
By
June 14th, 2018 | Last updated on July 29th, 2018
Home
»
Poker News
»
Arne Kern Wins 2018 WSOP Millionaire Maker and $1.17M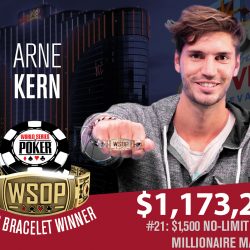 Arne Kern Wins Millionaire Maker
The $1,500 Millionaire Maker is one of the most popular events at the World Series of Poker. This year's event drew a field of 7,361 entries and after five days of play, we finally have a winner. Arne Kern scored his first WSOP cash last year in this event and this year managed to do significantly better after winning the event and making $1.17 million.
Final Day Starts With 17 Players
When the final day of action commenced on Wednesday, there were just 17 players remaining. There were still a couple of big names remaining in Barny Boatman and 2015 WSOP Main Event Champion Joe McKeehen. Chad Hahn and Sean Marshall began the day as chip leaders.
After about three hours of play, the final table was reached, Chad Hahn started the day as the chip leader but was the unfortunate final table bubble boy. He was all-in on the flop with top pair but Joe McKeehen turned a set to take the field to the final table.
McKeehen Chip Leader Heading into Final Table
Both McKeehen and Boatman managed to make the final table with McKeehen starting as chip leader and Boatman beginning with 35 big blinds. Bracelet winner Justin Liberto also made the final and started second in chips.
With this final table, McKeehen has made the final in a large field WSOP event each of the last four years.
? @joemckeehen is now the first player to make the final table in the $1500 Millionaire Maker, $1500… https://t.co/4KzoBaBsKh via @PokerNews pic.twitter.com/DNcHkRJ9xN

— The Poker Wire ♦️ (@thePokerWire) June 14, 2018
Boatman eliminated Sean Marshall in 9th place when Marshall's pocket fives were unable to outrun Boatman's jacks. Ralph Massey finished in 8th when he ran A-Q into the pocket aces of Michael Souza.
Barny Boatman did not earn his third career bracelet in this event as he finished in 7th place. He was down to about 12 big blinds and shoved pre-flop with As-Kd. Arne Kern called with Ac-Jh. A jack hit the flop to give Kern the hand and send Boatman to collect $175,865.
McKeehen Finishes in Third
This final table was not kind to former bracelet winners. Justin Liberto was hoping to make a run for his second bracelet, but he fell in fifth place when his Kc-Qc failed to outrun the As-Jd of Michael Souza.
Souza then flipped for his tournament life and failed. He shoved a stack of 14.1 million with Ah-Ks and ran into pocket queens from Sam Razavi. The board blanked Souza and he was out in fourth for $402,614.
Joe McKeehen made a solid run this final but was unable to win his third bracelet. He was second in chips at the dinner break and made a couple of runs toward the chip lead but lost a massive hand at the wrong time. Sam Razavi moved all-in pre-flop with As-8d and McKeehen made the easy call with pocket kings.
Unfortunately for McKeehen, an ace hit the flop and Razavi's aces held to leave McKeehen with just 5 big blinds. He then put those at risk with Qs-3d against the Jd-9h for Arne Kern. Kern caught a nine on the flop to eliminate McKeehen in third, good for $538,276.
Congrats #CLCsquad Coach Joe McKeehen on ? out of 7,361 players in the @WSOP Milli Maker for $538K after KK<A8 aipf for a quijibillion chips. pic.twitter.com/8qSXEf0mpf

— Chip Leader Coaching (@ChipLDR) June 14, 2018
McKeehen bemoaned his bad luck on Twitter and past Main Event champ Greg Merson gave him the needle.
U suk

— Greg Merson (@GregMerson) June 14, 2018
Arne Kern Wins Millionaire Maker
At the start of heads-up play, Arne Kern led Sam Razavi 34.2 million to 21.1 million. Razavi managed to take the chip lead after doubling through Kern with trip sevens after Kern missed a straight draw. Kern retook the lead a bit later when his Ad-8s held against the As-4d of Razavi.
Kern never trailed after retaking the chip lead and Razavi soon slid down to about 12 big blinds. Kern then decided to make a move with 4s-2s and shoved pre-flop to try and steal. However, Razavi called with Ah-Jh and looked to double.
The flop fell 8s-3s-3h to give Kern a flush draw. The turn 5s gave Kern the flush and left Razavi drawing dead. Sam Razavi finished runner-up and earned $724,756.
What a difference a year has made for Arne Kern. Last year, he finished 795th in this event to earn a glorified min-cash. This year, he tried again and wound up winning the event for his first live tournament win and easily the largest score of his live career. He earns his first gold bracelet and $1.17 million.
Germany's Arne Kern wins Event #21 of the 2018 WSOP, $1,500 NLHE Millionaire Maker. Kern, 26 earns $1,173,223 and career bracelet #1 in outlasting a 7,361-entry field. https://t.co/joceE6LMay pic.twitter.com/PYxop0hQXh

— WSOP (@WSOP) June 14, 2018
Related Articles