888Millions Superstorm Ends with Huge Nitsche Win
By
October 13th, 2020 | Last updated on October 13th, 2020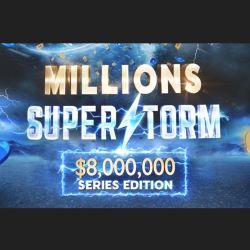 Online poker operators have been hosting massive online tournament series in 2020, providing many options for players who have little or no access to live poker during the pandemic. 888poker was one of those operators, though on a smaller scale and more accessible to a larger swath of players with varying bankrolls.
The latest series was a massive one that spanned from September 10 through October 11. The 888Millions Superstorm offered 480 tournaments over those five weeks. The buy-ins ranged from $5.50 to $530, altogether guaranteeing at least $8 million in prize pools.
And in the end, 888poker Ambassador Dominik Nitsche won the finale – the Main Event – for more than $121K and a prestigious online poker title.
Further, Nitsche scored the win on his birthday.
Congrats to #Team888's @DominikNitsche on his magnificent win of the #888Millions Main Event!

He takes his own advice and walks away with the crazy sum of $121,146.01 (after deal). 🔥💯

Well played, Sir! 👊👏🙌 pic.twitter.com/yA6ycxKj2c

— 888poker (@888poker) October 12, 2020
A Long Main Event
The highlight of any online poker series is the Main Event. This series was no different except that consisted of a long – very long – trek to the final table.
The $320 buy-in NLHE Main Event offered a $1 million guarantee, and players started competing in the dozens of starting days on August 23. They ran daily through October 10 and brought in 3,196 entries. That wasn't enough to hit the guarantee, though. That meant 888poker had to pony up $41,200 and give players the overlay.
By the time Day 2 rolled around, there were 567 survivors to continue play. When the money bubble burst, the top 300 players began cashing. Play moved very quickly until the final table neared.
Ultimately, 888poker Ambassador Dominik Nitsche headed into final table play as the second-shortest stack. He doubled back into action, though, and slowly built his stack. After he knocked out the fifth-place finisher, the final four players decided on a chop per their chip counts, with Nitsche third in chips. The deal allowed an extra $20K to remain in play for the winner, along with the title.
Play then continued with Nitsche buting the fourth-place and third-place finishers to make it to heads-up with a very solid lead over "GarbinaD." The shorter stack moved all-in with K-10, but Nitsche called with A-9 and found two more nines on the flop. "GarbinaD" hit a straight on the turn, but a queen on the river gave Nitsche the win.
The final table results were:
1st place:  Dominik "888Dominik" Nitsche (UK) $121,146.01

2nd place:  GarbinaD (Malta) $112,608.59

3rd place:  Artemka168 (Russia) $106,193.93

4th place:  MrMarley83 (Canada) $80,551.47

5th place:  kiskutya23 (unknown) $45,000.00

6th place:  DreamLikeMe (unknown) $30,000.00

7th place:  dulek_jason (unknown) $25,000.00

8th place:  Eduardo "franguet" Rocha (Brazil) $20,000.00

9th place:  joolius (Lithuania) $15,000.00
Well that turned around rather quickly.
Cheers @888poker for running this tourney. Was very fun! pic.twitter.com/Ddbf0jotXb

— Dominik Nitsche (@DominikNitsche) October 12, 2020
Related Articles