2019 WSOP June 1: Big 50 Gets Bigger
By
June 1st, 2019 | Last updated on June 1st, 2019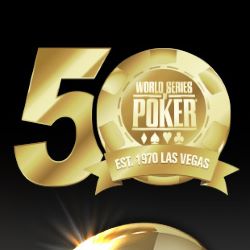 On the third day of the 50th Annual World Series of Poker, the low buy-in anniversary Big 50 tournament again took over the halls of the Rio Convention Center, requiring so much extra space for poker tables that they were set up in a bowling alley and areas normally reserved for storage. The turnout was more than even the most optimistic WSOP executives anticipated.
On Friday, May 31, this is what happened.
Event 1:  $500 Casino Employees NLHE – Final
Total entries:  686

Prize pool:  $298,410

Players paid:  103

Final table results:

1st place:  Nicholas Haynes (USA) – $62,248

2nd place:  Isaac Hanson (USA) – $38,447

3rd place:  Jorge Ruiz (USA) – $26,642

4th place:  Jesse Kertland (USA) – $18,758

5th place:  Adam Lamers (Canada) – $13,421

6th place:  Jeffrey Fast (Canada) – $9,761

7th place:  Christopher Bowen (USA) – $7,229

8th place:  Joseph Appler (USA) – $5,438

9th place:  Travis Williams (USA) – $4,161
Event 3:  $500 Big 50 NLHE – Day 2A & 1B
Entries:  no estimates given

Prize pool:  TBD ($5 million guaranteed)

Players paid:  TBD

Day 2A players remaining:  unclear

Day 1B players remaining:  1,435

Day 2A chip leader:  Mikhail Vilkov (Russian Federation) – 3,475,000 chips

Day 1B chip leader:  Matthew Keegan (USA) – 902,000 chips

Day 3 starting time:  11am on Wednesday, June 5

Day 2B restarting time:  7pm today

Day 1C starting time: 10am today

Day 1D starting time:  10am on Sunday, June 2
Confirming Big 50 Flight C today is sold out. If you preregistered your seat is good as long as you are in your seat by 12. Must complete registration at FasTrac desk in rotunda area of Rio Convention Center. Please have picture ID, Caesars Rewards card and confirmation handy.

— WSOP (@WSOP) June 1, 2019
Event 4:  $1,500 Omaha-8 Hi-Lo – Day 2 of 4
Total entries:  853

Prize pool:  $1,151,550

Players paid:  128

Minimum payout:  $2,257

Winner payout:  $228,228

Day 2 players remaining: 46

Chip leader:  Rick Fuller (USA) – 474,000 chips

Day 3 starting time:  2pm
Event 5:  $50K 50th Annual NLHE High Roller – Day 1 of 4
Total entries:  92 (registration still open)

Prize pool: $ 4,416,000 (not final)

Players paid:  TBD

Minimum payout:  TBD

Winner payout:  TBD

Day 1 players remaining:  52

Chip leader:  Ali Imsirovic (USA) – 1,549,000 chips

Day 2 starting time:  2pm
Notable Information
The second starting day of the Big 50 was more chaotic than the first, mostly because of the very large turnout but also because of space issues. Players from the first flight restarted on Friday as well, and there simply wasn't enough room to keep everyone at tables. Some new registrants waited hours for tables, and some of the poker tables were scattered around various parts of the casino, wherever space was available.
Action will be just as hectic today, as second-flight players return to play again and another new flight of players comes in to start.
Nicholas Haynes, a Las Vegas resident and poker dealer at ARIA, won his first gold bracelet when he finished first in the Casino Employees event on Friday. He took home the second WSOP bracelet of the summer.
On a historic note, the World Series of Poker announced that it awarded its three-billionth dollar on Wednesday when it paid a final table player in Event 2.
Congrats to Martijn Gerrits, who collected the $3,000,000,000 awarded in WSOP history on Wednesday for his 7th place finish in the $10k Super Turbo Bounty event. #WSOP50

— WSOP (@WSOP) June 1, 2019
Related Articles