Everything You Need to Know About Using Crypto for Online Poker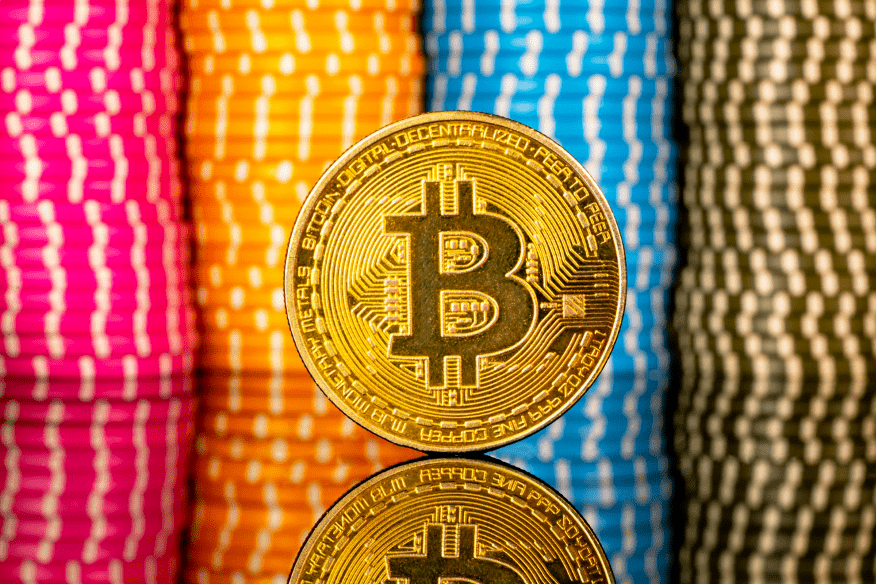 Intro
The excitement of online poker, combined with the cutting-edge world of cryptocurrencies, including the powerhouse that is Bitcoin, has really changed the game. Ever since online poker started, one big challenge has been just getting money into your account in a quick and easy manner. People have tried all sorts of things – like bank wires, Neteller, and even snail-mailing a check – to make sure that real-world cash finds its way into those virtual poker funds.
Each of these methods has its good and bad points, but here's the kicker: cryptocurrency takes the cake as the ultimate way to deposit and withdraw money for online poker. But, of course, it's not without its little quirks.
Get ready, because this guide is your one-stop shop for all things crypto in the world of online poker. We're laying it all out – everything you need to know about using crypto to conquer the poker tables.
Why Crypto?
Crypto has many benefits over traditional payment methods for online poker. The key difference is that once you have digital assets like crypto it's much easier to move them around the internet. Instead of relying on banking infrastructure you are instead using blockchain.
Here's a Look at the Various Benefits of Using Crypto for Online Poker:
Fast: Most crypto transfers take a matter of minutes rather than potentially waiting days for bank or wire transfers.
Not reliant on banks: Some banks have strict no-online gambling policies and have even locked down customer accounts for wanting to play online poker. Crypto is decentralized and nearly impossible to block. Once you possess cryptocurrency, you have the freedom to utilize it as you see fit.
Easy transfers: Crypto is easy to transfer to online poker sites but can also be transferred between friends and family with very little friction. It's universal money that can be sent anywhere in the world.
Low fees: While crypto does have variable network fees it tends to be far cheaper than the traditional wire services offered by banks. There are famous instances of people moving millions of dollars' worth of Bitcoin for less than a dollar.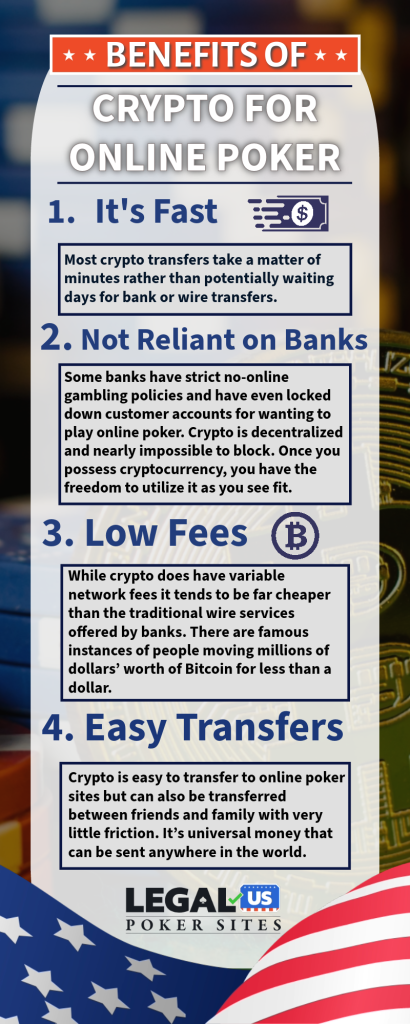 What is Crypto?
Cryptocurrency, often referred to as crypto, is a type of digital money that exists solely in the digital realm. Unlike traditional currencies, it operates without any affiliation to a specific government or nation. Every form of cryptocurrency is built upon a foundation of blockchain technology, which acts as a vast digital record, meticulously tracing all transactions.
While the likes of Bitcoin and Ethereum stand out as the most renowned cryptocurrencies, the landscape boasts an extensive array of thousands of distinct coins.
Do I Actually Bet with Crypto?
No. All online poker platforms promptly convert cryptocurrencies into fiat currency (like USD or GBP) before facilitating bets.
This keeps customer's funds steady while they are playing online. Crypto is notoriously volatile so it's easier to use fiat currency so that your bankroll stays stable.
Once you withdraw that money will once again be converted back to cryptocurrency.
What Are the Downsides of Using Crypto for Online Poker?
While crypto is exceptionally useful for online gambling there are also a few downsides. Here are some of the most common issues with using crypto for online poker:
Learning Curve
While cryptocurrency serves as an excellent choice for deposits and withdrawals in online poker, it operates with some nuances compared to traditional cash. To make the most of it, a fundamental grasp of how cryptocurrencies function is essential, along with the requirement to open an exchange account in most cases.
If your preference is to maintain your cryptocurrency privately, you'll need to familiarize yourself with the associated procedures. This entails acquiring or at least downloading an independent cryptocurrency wallet.
The good news is that the fundamental aspects of purchasing, sending, and receiving cryptocurrency aren't overly complex, and the majority of individuals should be able to grasp these concepts relatively quickly.
Transactions are Irreversible
It's crucial to recognize that, in general, cryptocurrency transactions are mostly irreversible. If you happen to send cryptocurrency to an incorrect address, it's highly likely that the cryptocurrency will be irrecoverably lost.
Unlike traditional transactions, you won't have the option to contact your bank or credit card company for a reversal.
On the flip side, this also means that external entities won't have the authority to obstruct your transactions, which can pose challenges for online gaming.
Converting to Cash
If you want cash than using crypto obviously adds another step to the process so it can take some time to get the cash in your bank account. You could also just keep your funds in crypto and speculate on the price going up if you want. This is, of course, risky and not financial advice.
How Do I Get Crypto?
Ninety-nine percent of people will use an exchange to buy crypto but it's also possible to buy from a friend or family as crypto is 100% transferrable.
For most people opening an account with a popular crypto exchange and loading it with funds will be the fastest and easiest way to acquire crypto.
Do I Need a Crypto Wallet?
You will need a crypto address to send coins but all crypto exchanges provide individual addresses to their customers so you don't necessarily need an independent wallet.
Crypto enthusiasts prefer non-exchange wallets (called self-custody) because the long history of exchanges going bankrupt or outright stealing customer funds.
Most regulated exchanges should be fine for holding small amounts of crypto but you can never be too careful.
How Do I Withdraw My Crypto Winnings from Poker Sites?
It's fairly simple withdrawing poker winnings in crypto.
It's just a matter of clicking the withdrawal button, providing a crypto address and then hitting send. The online poker site will take some time (most of the time it's same-day but it can also take up to a few days in some cases) to review your account, convert your funds and send your crypto.
How Long Does It Take for Crypto Withdrawals?
Crypto transactions generally take a matter of minutes but online poker sites review all withdrawals so it can take up to 72 hours to get your withdrawal processed.
In a lot of cases, you'll receive same-day payouts.
How Do I Swap My Crypto for Cash?
It's relatively easy to convert crypto to cash once you've got the crypto in your exchange account.
All exchanges give customers the ability to sell crypto for cash. At that point you can send it to your individual bank account using ACH or SEPA.
And there you have it — a comprehensive overview of using cryptocurrency for online poker. We hope all your questions got answered and we wish you the best of luck at the tables and if you're looking for the best crypto poker sites feel free to check out our Bitcoin Poker page!