Texas Lt. Gov. Patrick Says No Senate Casino Support
By
February 12th, 2021 | Last updated on February 12th, 2021
Home
»
Poker News
»
Texas Lt. Gov. Patrick Says No Senate Casino Support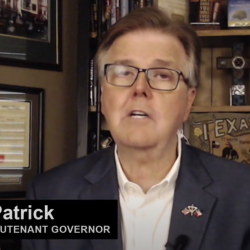 What works better than 51 lobbyists in a state legislature? One lieutenant governor.
Obviously, that is not a joke. It's the way things are going to be in Texas.
This week, Texas Lieutenant Governor Dan Patrick decided that he would stop all hopes of casinos in Texas in their tracks. The media speculation and high-paid lobbyists prompted Patrick to assert that he and all Republicans in the Senate oppose casinos in Texas.
While that is seems like a definitive statement, there might be some wiggle room.
Send in the Lobbyists
Prior to the death of casino tycoon Sheldon Adelson in early 2021, he had decided to legalize casinos in Texas. He reportedly sent eight lobbyists to the Texas legislature to have some discussions about casino gambling. He also donated about $4.5M to House Republican election campaigns in 2020.
After Adelson's death in January, Robert Goldstein took over as CEO and Acting Chairman of Las Vegas Sands. He wanted to put even more pressure on Texas lawmakers to legalize casinos in Texas, so he sent a few dozen more lobbyists into battle. At last count, there were 51 at work in Texas.
"If (Lt. Gov. Dan) Patrick is on board, it passes. If Patrick is not on board, it doesn't. It's about as simple as that," Rice political scientist @MarkPJonesTX tells the @TexasObserver. https://t.co/5QKESrB8Fa #Texas #txlege #SheldonAdelson #casino #casinos #gambling

— Rice University News (@RiceUNews) January 5, 2021
While those lobbyists worked on Republicans, it didn't take any of that money to sway Democratic Texas State Representative Joe Deshotel, who had been pushing for casinos in his state for years. At the end of 2020, Deshotel filed HJR.26, a proposal for a constitutional amendment to authorize casinos in "certain state coastal areas." It also specifically authorized the Kickapoo Traditional Tribe of Texas to conduct casino gaming via a compact change with the state.
Patrick and His Power
In a radio interview this week, Lt. Governor Patrick commented on casino gambling in Texas. "I've never been in favor of it," he said, according to the Austin American-Statesman.
Patrick then asserted, "We are nowhere close to having the votes for it." He referred to the Senate, over which he presides and which has an 18-13 Republican majority. A bill would need 21 votes to send the issue to the voters for a final decision.
Further, Patrick noted that there may be too many lobbyists. Too many special interest groups, like those representing Las Vegas casinos, racetracks, etc., mar the issue with "so much infighting and competition."
In the end, he said, "It's not even an issue that's going to see the light of day this session."
Did Patrick Leave the Door Ajar?
Clearly, the lieutenant governor's comments don't leave the door wide open for the issue to roll around the Senate floor.
However, Patrick pointed out that there is no Senate bill on file, meaning there is no Senate sponsor for legislation like Deshotel proposed. "When you don't even have a sponsor, it's not even a bill you spend much time on or think about," he said.
So, if there was a detailed bill on file in the Senate, Patrick might reconsider?
It likely depends upon the lobbyists working their magic on members of the Senate, both Democrats and Republicans. It will require bipartisan support to put any constitutional amendment on the ballot. If there was significant Republican sponsorship of a bill that would put the issue up for a public vote, Patrick might reconsider.
If not this year, there is room for movement in the coming year. As Texas – along with every other state in America – deals with massive budget deficits and the need for new revenue streams, a conversation or two about casinos seems plausible.
Republican leaders have expressed skepticism about expanding gambling in Texas. But supporters see hope in the long run. https://t.co/PksAFw6pjY

— Texas Tribune (@TexasTribune) February 11, 2021
Related Articles