Tony Miles Takes 64 Percent of Chips in Play into Main Event Final – Cada Falls
By
July 14th, 2018 | Last updated on August 9th, 2019
Home
»
Poker News
»
Tony Miles Takes 64 Percent of Chips in Play into Main Event Final – Cada Falls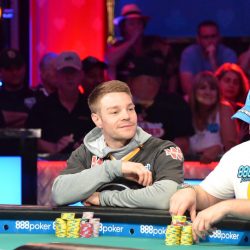 Day 2 of the 2018 World Series of Poker final table started with Michael Dyer holding a monster chip lead and the poker world rooting hard for 2009 Main Event champion Joe Cada to make a comeback and make a run for the bracelet.
By the end of the day, we not only lost Cada but Dyer was usurped as chip leader. Tony Miles is the new dominating chip leader heading into the final day while John Cynn is hoping to go from 11th in 2016 to a champion in 2018. Michael Dyer needs to make a huge comeback to have any shot at the bracelet on Saturday.
Aram Zobian Eliminated in Five Hands
It only took five hands to get rid of the first player. Aram Zobian started as the short stack and was looking for spots to pick up chips. He was in the small blind and after action folded to him, he shoved for 17.35 million with 8d-6d.
The thing is, Michael Dyer was in the big blind and looked down to Ah-8c. He made the easy call for less than 10% of his stack. The board failed to produce a six and Zobian was out in sixth place. Aram Zobian earned $1.8 million for his sixth-place finish.
Aram Zobian departs #WSOP Main Event in sixth. Regrets?

"Zero. I was going for the win."https://t.co/3UFDjfNkoP

— PokerStarsBlog (@PokerStarsBlog) July 14, 2018
After knocking out Zobian, Dyer moved up to 192 million, nearly 130 more than the next closest player.
Joe Cada Loses Monster Flip – Out in Fifth
Joe Cada was trying to do what no other Main Event champion has done since Johnny Chan – win a second Main Event title. He was fifth in chips heading into Day 2 and battled hard to actually chip up into fourth place. Just when it looked like he was building some momentum, he lost a monster that resulted in his elimination.
Cada raised to 2.2 million UTG and Tony Miles three-bet to 6.9 million from the button. Cada then shoved for 47.65 million and Miles went into a deep tank. Finally, he made the call and the players were off to the races.
1) To call or not with AK in main event? pic.twitter.com/apt0sS1NDB

— High Roller Radio (@HighRollerRadio) July 14, 2018
Cada showed pocket tens and Miles showed Ah-Kc. If Cada wins the hand, he would become a big favorite to challenge Dyer for the title. Unfortunately, the flop fell Ks-8d-9h to give Miles a pair of kings and his rail went bonkers. The turn Qd gave Cada a gutshot draw but the river 9s put a sudden end to Joe Cada's run to his second Main Event title.
Joe Cada had one of the most remarkable runs for a former Main Event champion in the modern era, finishing 5th in the 2018 WSOP Main Event and earning $2.15 million in the process.
Joe Cada can't make it two, loses flip to bust #WSOP Main Event in fifth. https://t.co/F2VzPM70NE pic.twitter.com/YChlJWEBU7

— PokerStarsBlog (@PokerStarsBlog) July 14, 2018
With Cada's elimination, Tony Miles moved up to second in chips with 104 million. Dyer still had nearly a 63 million lead on the rest of the field at this point.
Tony Miles Becomes New Monster Chip Leader
Little did we know that the elimination of Cada would begin an incredible run by Tony Miles that resulted in him taking over the chip lead. He catapulted himself into the lead in bit of a cooler against Michael Dyer that saw Miles flop a set of threes against bottom two pair for Dyer. Miles would fill up on the river and took over a 52 million chip lead.
Dyer later was able to move back into the lead briefly a bit later after John Cynn doubled through Miles to drop Miles' stack back into striking distance. However, Miles retook a massive lead a bit later when he caught aces full against two pair for Dyer. A couple of hands later, Miles had over a 100 million chip lead over everyone else.
Tony Miles leapfrogs Michael Dyer to take commanding lead into #WSOP finale. Joe Cada's double-dream ends in fifth. https://t.co/XN7jQOVqhS pic.twitter.com/atp5nS0Aqb

— PokerStarsBlog (@PokerStarsBlog) July 14, 2018
At one point Miles vaulted up as high as 230 million and had over a 150 million chip lead over the rest of the field. He still finished the day with a 110 million lead over the other two players.
Pocket Kings Finally Hold! Nicolas Manion Out in Fourth
Eventually, it was Michael Dyer and Nicolas Manion as the short stacks with only a single big blind separating them. Manion found a hand to try and double with, but in a horrible spot. Cynn had raised pre-flop to 3.8 million and Manion shoved with As-10d. Cynn made the insta-call with pocket kings.
Despite Manion having an overcard to the kings, there was no suckout this time. The board ran out queen high and Cynn's kings held to end his Main Event run in fourth place.
The 2018 WSOP Main Event was the first WSOP event that Nicolas Manion has ever played. He made the most of it with a fourth-place run, earning $2.825 million.
Day 2 of the Main Event final table is now complete.

John Cynn opened with KK, Nicolas Manion shoved with As Td and Cynn snap-called.

The board runs out Qc 6c 3s 2d 6h, Manion earns $2,825,000.

Photo credit @jtPHOTOjunkie

Play resumes Saturday at 5:30, recap posted shortly pic.twitter.com/7yyly4Fd5F

— WSOP (@WSOP) July 14, 2018
Miles Has 65% of Chips In Play
With Manion's elimination, play concluded for the night. Tony Miles has an overwhelming chip lead heading into the final day of the final table with 238.9 million. He has almost 65% of the chips in play.
John Cynn has 128.7 million, or about 80 big blinds. He played well on Day 2 and is just a couple big pots or a double-up from taking the chip lead.
Michael Dyer went from the penthouse to flirting with the outhouse and finished the day with just 26.2 million. He has just 16 big blinds left and will need to get busy early if he hopes to say in contention.
The remaining players have $3.75 million locked up but all three will return at 5:30 pm Vegas time on Saturday to play for the bracelet and $8.8 million. Will Miles close the deal or will Cynn or Dyer find a way to come back to win the bracelet? We will find out tomorrow.
Related Articles