Supreme Court to Decide New Jersey Sports Betting
By
July 28th, 2017 | Last updated on April 18th, 2018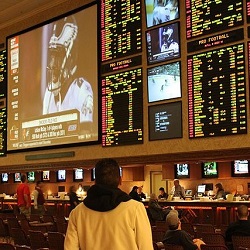 Nevada currently monopolizes US sports betting
One month ago, the United States Supreme Court announced it would hear arguments in a case regarding the ability of individual states to offer sports betting. For many years, New Jersey has been fighting for the right to do so in its casinos and racetracks, but the Professional and Amateur Sports Protection Act of 1992 (PASPA) has been in the way.
Why is this an issue covered on a website dedicated to poker?
The legalization of any type of gambling in the United States, especially as it pertains to states' rights, could have an impact on internet gambling and, therefore, online poker. It is important to keep an eye on cases that could set precedent for future online poker arguments.
Six Years Ago in New Jersey…
Governor Chris Christie has long been a supporter of legalized sports betting. When the New Jersey state legislature passed a bill permitting such bets at local casinos and racetracks, Christie signed it into law in January 2012. The law allowed land-based establishments to apply for licenses to offer betting on amateur and professional sports.
Nearly seven months later, the NCAA (National Collegiate Athletic Association) joined with the major league organizations for baseball, football, basketball, and hockey to file suit in a US District Court against Christie. The lawsuit alleged that New Jersey violated PASPA, threatening the integrity of sports and the reputation of leagues. The US Department of Justice has sided with the leagues against New Jersey in the case.
PASPA was enacted in 1992 and prohibits 46 states from licensing, sponsoring, or authorizing any sports betting. The exempted states are Nevada, Delaware, Oregon, and Montana, as they all permitted some type of related of wagering before PASPA became law, though Nevada was the only one with truly legalized betting on amateur and professional sports.
The details of the legal questions pertinent to the case become too convoluted for this piece (and this author, if we're being honest), but suffice it to say that the issue of states' rights is in play.
Issues Relevant to Online Poker
The states' rights issue is one of the primary topics of debate with relation to online poker and internet gambling in general. The original Federal Wire Act of 1961 prohibited betting businesses using wire communications, an attempt to stop underground betting done by telephone. Over time, the law became vaguer as it pertained to internet and wireless communications. In 2011, the Department of Justice issued a legal opinion with reference to the antiquated law that concluded "interstate transmissions of wire communications that do not relate to a 'sporting event or contest' fall outside the reach of the Wire Act." That opened the doors for states to regulate any non-sport-related betting online, including lotteries, poker, casino games, and fantasy sports."
Another issue in play is that of a monopoly, which Nevada currently holds over the entire sports betting industry. Many feel that casinos in Atlantic City – and in other cities around the country – should be allowed to profit from the multi-billion-dollar industry as well.
Further, an issue highlighted by the Competitive Enterprise Institute is that of federalism. If the law is allowed to stand as is, "it would empower Congress to force states to enforce federal law." Some feel that the Constitution intended for states to maintain sovereignty over their own matters without federal interference, in most natural cases.
Possible Impacts on Poker
According to Professor I. Nelson Rose, author and expert on legal gambling matters, the question of who are the decision-makers with regard to gambling and betting is paramount. Should the federal government or individual states be allowed to make those types of decisions? He feels the Supreme Court's decision to hear the case indicates a return to states determining their own gambling laws.
As he stated in his recent analysis of the issue, "Freed of outdated federal restrictions, states would be free to make their own decisions about internet gambling." He also indicated the decision in the Christie v NCAA case could allow the Wire Act to be challenged in full as outdated and usurping the rights of the states to legislate such issues.
The New Jersey case made history with its acceptance by the Supreme Court, but the outcome is several months away. Amicus briefs are already being submitted, but briefs from the major parties in the case are not due until August and September. It appears that the Supreme Court may not even hear oral arguments until later this year or early in 2018.
The case is important, though, for all forms of gambling and the future of gambling laws in America.
Related Articles