PokerStars US Sends SCOOP to Michigan, PA, and NJ
By
April 8th, 2021 | Last updated on April 8th, 2021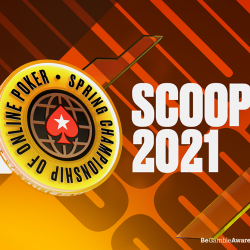 PokerStars hosts numerous online poker tournament series each year, but the two most popular – and long-lasting – are WCOOP (World Championship of Online Poker) and SCOOP (Spring Championship of Online Poker). As PokerStars makes its way through American states and sets up a spring schedule, SCOOP heads to Pennsylvania, Michigan, and New Jersey.
The announcements about SCOOP for the US market follow singular tournaments in each state last weekend, and two of the three didn't go as planned. Pennsylvania's event was the only one that met its prize pool guarantee. Pokerfuse compiled the numbers and told the tale.
With that in mind, PokerStars released its PASCOOP schedule this week.
Details about the New Jersey and Michigan SCOOPs will follow in the coming days.
PASCOOP for PokerStars Pennsylvania
First, the aforementioned April 4 tournament for Pennsylvania players was Pennsyl-MANIA. The $300 buy-in tournament offered a $400K guarantee, five reentries, and two days of action. And it turned out well:
–Total entries: 1,476 (919 players, 557 reentries)

–Total prize pool: $413,280

–Total paid players: 251

–Minimum payout: $544.53

–Winner: throwitinthebag ($63,084.00)
With that one in the books, PokerStars announced the PASCOOP to take place April 17 to May 3. There will be 40 events, each with three buy-in levels to equal 120 total tournaments. And in total, they will guarantee more than $2M in prize money.
Buy-ins will range from $5 to $1K, but players can find numerous ways to win seats for free or at a discount. The PASCOOP Depositor Freeroll on May 2 will award $15K worth of Main Event tickets. And daily Second Chance Freerolls will award$15K in tournament tickets throughout the series.
And, of course, the Main Event will offer three levels on May 2 at 6pm ET as follows:
-Event 36-L: $30 buy-in NLHE Mini Main Event ($20K GTD)

-Event 36-M: $75 buy-in NLHE Mid Main Event ($40K GTD)

-Event 36-H: $300 buy-in NLHE Main Event ($200K GTD)
Each of these will permit up to five reentries per player.
🎉 It's time to SCOOP a 🏆 in PA 🎉

📆 April 17th to May 3rd
1️⃣ 2️⃣ 0️⃣ events minimum
💵 $5 to $1000 buyins
💰 $2 million GTD
🏆 $300 entry $200k Main Event May 2nd
🎟️ $15k Main Event Depositor Freeroll May 2nd: $30+ deposit with code 'PASCOOP'
🎟️ Daily Second Chance Freerolls pic.twitter.com/jutGZJacNU

— PokerStarsUSA (@PokerStarsUSA) April 7, 2021
Last year's PASCOOP was the first one for Pennsylvania, offering 50 events and $2M in guarantees. That series did quite well, as the 79,910 entries totaled more than $3.2M in actual prize pool money awarded.
MISCOOP for PokerStars Michigan
On April 4, PokerStars gave Michigan players their first Michigan Classic tournament. With a $300 tournament, organizers set the guarantee at $500K and, evidently, overestimated participation.
–Total entries: 1,551 (1,025 players, 526 reentries)

–Total prize pool: $500K prize pool by guarantee ($65,740 overlay)

–Total paid players: 251

–Minimum payout: $658.80

–Winner: moneydijon ($76,319.05)
It's fair to assume that PokerStars set the bar high for the Michigan Classic because of the massive turnouts for the inaugural MICOOP (Michigan Championship of Online Poker) held in February and into March to welcome new players from the state. The entire series guaranteed more than $1.4M but paid out $2.2M, and only four of the 60 events presented overlay situations.
PokerStars will offer the first-ever MISCOOP, Michigan's version of SCOOP, but it will run later than the one in Pennsylvania. It is set for May 8-24, but that is the extent of information at this time.
🎉 MISCOOP is on the way 🏆

Michigan players have their chance to SCOOP a 🏆in May.
Details to be released later this month.

📆 May 8th to May 24th pic.twitter.com/YVm6Nzxxex

— PokerStarsUSA (@PokerStarsUSA) April 7, 2021
NJSCOOP for PokerStars New Jersey
The smallest of the three PokerStars markets in the United States stepped up with its New Jersey Classic last weekend. The April 4 tournament required a $500 buy-in and guaranteed just $100K. However, it missed that mark.
–Total entries: 178 (131 players, 47 reentries)

–Total prize pool: $100K prize pool by guarantee ($16,340 overlay)

–Total paid players: 31

–Minimum payout: $1,087.57

–Winner: newport_kangbaz & Zenon9000 ($17,300.81 & $17,300.82 split)
PokerStars is still evaluating the potential schedule and event guarantees for this year's NJSCOOP, which will run May 8-24.
🥳 Coming soon: NJSCOOP 🥳

New Jersey players can try to earn a SCOOP 🏆 next month. Will any win be with a royal flush? 🤔

📆 May 8th to May 24th

Details to be released later this month. pic.twitter.com/7RPGRzNJFx

— PokerStarsUSA (@PokerStarsUSA) April 7, 2021
The 2020 NJSCOOP was a 48-tournament affair with $1.2M guaranteed. But that one exceeded PokerStars' expectations by awarding nearly $1.8M from the 33,738 entries in the series.
PokerStars in US Thus Far
PokerStars currently operates in New Jersey, Pennsylvania, and Michigan. The site has been in New Jersey for years, launching in March 2016 and handling a reasonable portion of that small and somewhat-saturated online poker market. It launched its PokerStars PA site in late 2019, and nearly 1.5 years later, it remains the sole poker site in the state.
When Michigan opened to online poker sites this year, PokerStars was the first to launch in the final days of January. BetMGM (on the PartyPoker platform) launched on March 22 to provide some competition.
At the current time, PokerStars cannot connect its three US-based online poker sites for liquidity, for players to share tables in cash games and tournaments. That would obviously be easier than consistently setting up three series like SCOOP for three different markets.
The only poker operator that has connected its sites across state lines thus far is WSOP.com on the 888poker platform. They connected their player pools for Nevada and Delaware in March 2015, and New Jersey joined that group in April 2018.
Pennsylvania and Michigan can now enter that multi-state online poker agreement but have yet to do so, as it requires each state's governor to sign the compact. When that happens, PokerStars will have the liquidity it needs to increase its hold on the US market.
Global PokerStars SCOOP
Meanwhile, PokerStars' dot-com global network is hosting its annual SCOOP series on a massive scale. The series kicked off on April 4 and will run through April 28. The 102 events translate into 306 individual tournaments, and they altogether guarantee $100M in prize pools.
The series started in 2009, and prior to the 2021 SCOOP, it had played 644 events (1,932 individual tournaments) that drew 9,280,540 entries. Prize pools through the years totaled $999,353,882.
On April 4, 2021, the first three tournaments to play to their conclusions awarded more than $1M in prize pools, which put the grand total of money awarded in SCOOP history at $1,000,444,302. Crossing that $1B mark was a huge milestone for PokerStars and one of its signature COOP brand of tournaments.
SCOOP got off to a bang on Sunday night with 18 tournaments kicking off and superstars coming out to play. Meanwhile, series prize pools burst past $1 billion! https://t.co/g9TVwwO1ab

— PokerStarsBlog (@PokerStarsBlog) April 5, 2021
The biggest events of SCOOP 2021 have yet to play out, though. Those will be the Main Events, all scheduled for Sunday, April 25:
-Event 92-L:  $109 buy-in NLHE 8-Max Main Event ($3M GTD)

-Event 92-M:  $1,050 buy-in NLHE 8-Max Main Event ($5M GTD)

-Event 92-H:  $10,300 buy-in NLHE 8-Max Main Event ($5M GTD)

-Event 93-L:  $109 buy-in PLO 6-Max Main Event ($350K GTD)

-Event 93-M:  $1,050 buy-in PLO 6-Max Main Event ($750K GTD)

-Event 93-H:  $10,300 buy-in PLO 6-Max Main Event ($1.25M GTD)
Buy-ins for the series range from $2.20 to $25K. There are also $100K in prizes for the four leaderboard competitions – one for each level of buy-in (low, medium, and high) and an overall leaderboard.
PokerStars posted the full SCOOP schedule on its blog.
Related Articles