New York Online Poker Fate Lies with Assembly
By
March 22nd, 2018 | Last updated on October 16th, 2020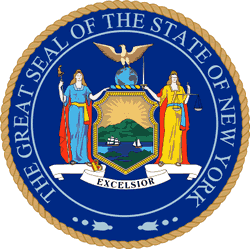 Could online poker be in the New York budget?
The last few years of progress for online poker in New York shows a very consistent pattern. State Senator John Bonacic has been championing bills each year and successfully pushing them through committees, to the Senate floor, and through the Senate by a fairly wide margin. The majority of the New York Senate is ready and willing to legalize and regulate the game.
If you want #iPoker in New York, RT and tag your NY poker playing friends/family/frenemies(?) so they know what can be done to convince lawmakers to pass a bill: https://t.co/Pl2i3oL4zL

— Poker Alliance (@ppapoker) March 6, 2018
The Assembly is the problem. State Assemblyman J. Gary Pretlow talks a good game each year but has yet to make much progress with his bills. Each year, there are reasons that the bill couldn't be put up for a vote, reasons for a lack of support, reasons that poker needs to wait.
Though 2018 is still in the first quarter of the year and anything can happen, there is already momentum from Bonacic on the Senate side to get the bill passed…again. The same cannot be said for the Assembly.
Online Poker in Senate Budget Proposal
Bonacic's poker bill from 2017 – S.3898 – went as far as it could go last year, going all the way through committees and then passing the Senate by a whopping 54-8 vote. But since it stalled there because of a lack of Assembly action, S.3898 started over in 2018.
Without any delay, however, Bonacic put his bill to a vote in the Senate Racing, Gaming and Wagering Committee, where it passed by a 10-1 vote. It is now in the hands of the Finance Committee.
When the latest budget proposal was put up in the Senate for consideration, OPR pointed out that there was a curious addition to the bill: interactive poker games. The Senate budget bill included Part RRR, which called for the addition of Article 15 for Interactive Gaming. That piece of the bill goes on to declare poker as a game of skill, exempt it from the state's penal code, and it should be licensed and regulated to "safeguard the integrity of the games and participants and to ensure accountability and the public trust."
Basically, if the budget passes as it is currently written, online poker will be legal in New York.
All Quiet on the Assembly Front
Pretlow's bill on the Assembly side of the legislature – A.5250 – started 2018 in the Codes Committee for a jump start. However, it has yet to be put up for a committee vote because Pretlow feels that "women are opposed to gambling or gaming." He noted that there was a "heated" incident in 2017, in which the female members of the Assembly opposed his poker bill. This year, though, he was certain he could garner more support.
Even so, there has been no news from the Assembly about any further action for his bill. And the Assembly budget has no mention of interactive gaming of any kind.
PPA: Good morning New York. I think today is a good day to get #iPoker.

NY Poker Player: Yeah, but I am super busy.

PPA: Well it only takes 60 seconds by clicking here: https://t.co/Pl2i3oL4zL

NY Poker Player: pic.twitter.com/g2uTc6EWuA

— Poker Alliance (@ppapoker) March 7, 2018
What's Next?
There is no reason to believe that Bonacic won't have success with his bill again this year. In fact, if he can keep the poker clause in the budget – the same version that must pass through the Senate and Assembly and obtain the governor's signature – it could become law simply through the tenacity of Bonacic alone.
All eyes will be on that budget, but poker supporters will have to keep their eyes on Pretlow as well. He likely needs to hear from lobbying organizations like the Poker Players Alliance, as well as the general poker-supporting public, to be made aware that he is responsible for moving the bill that he has touted and promised for several years.
While the proper wording in the budget could solve the problem, Pretlow must be ready to fight for the bill that he continues to insist is important to him.
Trading some #poker secrets with a couple of the world's best players @VanessaSelbst @PokerStars #Allin pic.twitter.com/u6I5MzGxtd

— Ron T. Kim (@rontkim) March 14, 2018
Related Articles