Michigan Governor Fights Online Gaming Efforts
By
June 29th, 2019 | Last updated on June 30th, 2019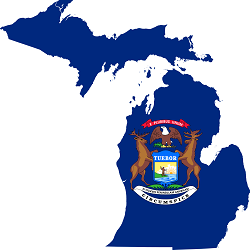 Michigan State Representative Brandt Iden was nothing if not positive about online gaming. For several years, his optimism has been contagious, and many believed he would be the lawmaker to finally legalize online poker and casino games for people in Michigan.
He did it, actually. Iden worked closely with former State Senator Mike Kowall to pass the Lawful Internet Gaming Act in 2018, and both houses of the legislature approved it by a wide margin in December.
It was a Christmas miracle…until the Grinch – errr, we mean then-outgoing Governor Rick Snyder – vetoed the bill on December 28.
However, the crushing blow didn't stop Iden from trying again. With Kowall out of the legislature, Iden found a new partner in Senator Curtis Hertel Jr. The Republican in the House and Democrat in the Senate introduced identical bills. The 2019 Lawful Internet Gaming Act was labeled as HB.4311 in the House and SB.2186 in the Senate.
Despite the House bill finding some early momentum, it has been stuck in committee since March.
And Governor Gretchen Whitmer is just fine with that.
Whitmer Opposition
The Michigan Department of Treasury was the first to officially express serious concerns about online gaming taking much-needed gambling revenue from the lottery and land-based establishments and thus cutting into the School Fund Aid so dependent upon that money. That all happened at a May 2 hearing in the House Ways and Means Committee.
Iden dismissed much of the analysis as scare tactics but knew he had to do more to educate lawmakers and state executives before moving forward.
According to Michigan Radio, the NPR news station, Whitmer remains very concerned that people who play online casino games won't play state lottery games, or at least at the same level. It also matters that the tax rate and amount allocated toward the School Aid Fund are higher for the state lottery than they will be for online poker and casinos.
"I've said very clearly, over and over again, that protecting the School Aid Fund, ensuring that we get every dollar back into the education of our kids is my priority," Whitmer said. "So, I'm going to have a hard time supporting anything that doesn't protect that goal."
Gov. Whitmer and state lawmaker in standoff over online gaming https://t.co/Du0qxIo97y

— F. Steven DiMasi (@FSDiMasi) June 26, 2019
Iden Pushes Back
Iden remained firm in his stance that online poker and casino games will only add to state revenue and that which goes toward education. He reiterated the statistics that show other states not experiencing that problem about which Whitmer worries.
About that revenue, Iden said, "That's one of the things the governor desperately needs right now. She's looking for increased dollars for roads, she's looking for increased dollars for education. And what I'm proposing is a way to help get her there, and I certainly hope she doesn't stand in the way of bringing more dollars to kids."
In the past several months, Iden has remained confident that continued conversations may get them to middle ground and enable them to find a solution.
Requested Concessions
Thus far, Iden has made no concessions. But in May, he did agree that he might have to reduce the initially-proposed 8% tax for online gaming. While that rate did include an additional 1.25% local share for commercial casinos, Iden knew adjustments were likely in the future after meetings with stakeholders and the Treasury.
MICHIGAN: The executive branch is seeking to raise taxes and fees across the board for iGaming (w/o Slots). @OPRupdate has their latest proposal and it ain't pretty. https://t.co/55SQZFMweC

— Poker Alliance (@ppapoker) June 5, 2019
Speaking of the Treasury and Whitmer, they suggested that slots be removed from online gaming bills, reducing the options to online poker and table games only. And they proposed a tiered tax rate based on revenue as follows:
–Under $2.5 million in revenue:  8% tax

–$2.5 million to $4 million:  16% tax

–$4 million to $8 million:  32% tax

–Over $8 million:  40% tax
The proposal also included a tiered structure for license fees if the online gaming sites do include virtual slot machines:
–Up to 1,200 slot games:  $200K application fee

–1,201 slots to 1,999 slots:  $700K application fee

–2,000 slots or more:  $1 million application fee
And annual license renewals would then be based on each operator's online gaming revenue from the previous year:
–Up to $2 million:  $175K

–$2 million to $5 million:  $350K

–Over $5 million:  $500K
According to Online Poker Report, Iden called those numbers and concessions "non-starters" and the proposal not a "meaningful" one.
With that said, Iden plans to continue talking with Whitmer in the hopes of being able to address the online gaming bill again in July or August.
Related Articles