Failing New York Casino May Hurt Online Poker Chances
By
April 3rd, 2018 | Last updated on July 27th, 2018
Home
»
Poker News
»
Failing New York Casino May Hurt Online Poker Chances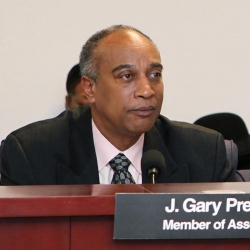 Pretlow may not be an online poker friend
New York was almost a sure thing to legalize online poker in 2018. After two years of Senate approvals and assurances from the House bill sponsor of progress this year, it seemed that New York would be following Pennsylvania right into the world of regulated gaming.
Instead of the process being easier in 2018, however, there seem to be more obstacles. And a big one is the del Lago Casino.
Ready, Set, Maybe…
They were so close in 2017.
New York State Senator John Bonacic knew what to do with his online poker bill and did it. S.3898 passed its proper committees without issue and passed the Senate by a significant majority of 54-8. Bonacic had secured his support and relied on State Assemblyman J. Gary Pretlow to do his part on the other side of the legislature to seal the deal.
Pretlow made little progress with his bills in past years, with 2017 highlighting the level of complication that boiled beneath the surface. Not only did his A.5250 not make it to the House floor for a vote, Pretlow claimed it was the female members of the Assembly who held up any potential progress.
Both bills were revived at the beginning of 2018, though. Bonacic quickly ushered his bill through the Senate Racing, Gaming and Wagering Committee with a 10-1 passing vote. Meanwhile, Pretlow claimed he would convince the opposing forces of the benefits of the online poker bill and move it forward this year, though there has been no movement in the first three months.
Bonacic, on the other hand, even went so far as to try to insert the "Interactive Gaming" article into the proposed Senate budget bill last month in order to make it happen. However, when the budget did pass by the previous weekend's deadline, OPR reported that the gaming provision had been removed.
Problem: Pretlow
When the sponsor of a bill is unable to push said bill through the committee that he chairs – several years in a row – the problem may be with the sponsor and not the bill.
Little evidence has been seen that Pretlow values the online poker legislation. Its inability to pass his own Racing, Gaming and Wagering Committee on the Assembly side is evidence of this. And if he is unable to convince members of his own committee that online poker is beneficial to the state and its residents, there is little reason to believe he can sway the opinions of a majority of the Assembly.
It is unclear why few in the poker industry – lobbyists, industry experts, opinion writers – have challenged the notion that Pretlow is the ideal person for the job. There is no reason that Pretlow should remain in charge of the Assembly online poker bill.
Problem: Profit
One of the three newly-built New York casinos is certainly not making a profit. The del Lago Resort & Casino had issues from the beginning, including lawsuits from other gaming entities about the establishment's location, proximity to other casinos, and license. Even so, the company bragged when it came up with the $50 million licensing fee and proceeded with the project.
Nevertheless, the problems persisted.
Within its first year of operation, it was already performing poorly. Moody's Investors Services was among many that raised concerns about the casino's ability to cover its massive debts. Moody's noted that del Lago was underachieving and performing "substantially slower than expected." That report came in January 2018 with a lower bond rating and negative rating outlook.
The casino originally predicted it would show $263 million in revenue in its first year, but that number proved to be far from reality. And in late March, casino owner Tom Wilmot asked the state of New York for a bailout, though not in those words. "I think we need some help at this point," he said, according to WGRZ. Specifically, he is said to be requesting a lower tax rate.
This type of gambling failure does not reflect well on anything associated with "gambling."
Problems Intertwined
There is an overlap on the two above-mentioned problems.
Pretlow may be a problem for online poker in his own right, but it makes the case even worse when he is one of the top critics of the del Lago situation. And he is.
Pretlow has been outspoken since the fall of last year, hardly six months after del Lago opened. He wrote to New York State Comptroller Thomas DiNapoli to express his concern in October 2017, predicting that the casino would ultimately require some type of bailout. Pretlow asserted that casino owners possibly inflated revenue estimates in order to obtain the license, a scenario that warranted an investigation.
Legislators may now have to look at del Lago's failures, which may not give them a lot of incentive to authorize a new gambling-related industry in online poker. At the same time, the legislator who is supposed to be fighting for online poker has shown little sign of doing so but has shown great disdain for del Lago and its predictions that fell short.
How is Pretlow to believe analysts' predictions regarding online poker revenue?

How can Pretlow advocate for online poker licensed to land-based casinos when he continually exhibits disdain and distrust for a new land-based casino?
These are some of the issues that need to be considered before counting the eggs in that New York basket. Bonacic may be fully committed to legalized online poker, but he seems far more alone in the fight than most are willing to admit.
Related Articles