Could Michigan Legalize Online Poker Yet This Year?
By
November 19th, 2018 | Last updated on November 19th, 2018
Home
»
Poker News
»
Could Michigan Legalize Online Poker Yet This Year?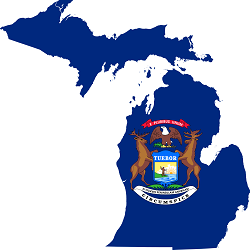 Michigan State Representative Brandt Iden is nothing if not optimistic. It seems to work for him, at least it did in the recent mid-term elections when he won a third term, defeating tough opponent Alberta Griffin to represent the 61st District. The race was tight, but Iden emerged the victor.
His win also meant that online poker and gaming's biggest supporter in the Michigan legislature remained in a position to continue fighting for his bill. Iden jumped on the internet gaming train back in 2017 and never stopped. He took legislation through numerous changes, discussions, and hearings, and in little more than one year, he believes he is closer than ever to accomplishing the goal.
Now, tying his online gaming bill together with sports betting, Iden intends to pass it through the entire legislature and to the governor's desk before the end of 2018. Considering there are numerous holidays on the calendar, this gives him only a few weeks to accomplish the task.
Status of Bill(s)
The primary bill introduced by Iden is HB.4926, also known as the Lawful Internet Gaming Act which was first introduced on September 12, 2017. It spent nearly a full year going from reading to hearing, all with amendments as talks progressed with those who will be affected by the legislation. Native American tribes with gaming compacts were particularly involved in talks so as to be included in all potential online gaming opportunities.
Finally, Iden took his bill to the House floor for a vote on June 12, 2018, and it passed by a vote of 68-40.
At that time, Iden was confident that the bill would be a top priority in the fall legislative session, though those months passed with no word on internet poker, casino games, or sports betting. But just days after Iden won his reelection race in the mid-term elections, he was back on the case and saying publicly that the goal was to pass it through by the end of the year.
It should be noted that HB.4926 is partnered with HB.4927, which amends Michigan's penal code to remove penalties exempted by the Lawful Internet Gaming Act. In addition, HB.4928 amends the state's code of criminal procedure per HB.4926.
Happy Holidays?
Iden most recently commented on his online gaming and sports betting legislation at the US Sports Betting Policy Summit last week. Per Online Poker Report, Iden noted that he has been working with members of the Michigan Senate to pass his bill during the lame-duck session. "The online gaming piece, which was the initial bill I started before the repeal of PASPA – I certainly hope that it gets to the governor's desk before the end of the year, and I expect that it probably will."
Good to see @BrandtIden today at #futureofsportsbetting conference. Strong advocate for #iGaming and believes that Michigan will enact a law very soon.

— John A Pappas (@yanni_dc) November 15, 2018
The dates of the lame-duck session are subject to change, but they are currently on the Senate calendar as follows:
–November 27, 28, 29

–December 4, 5, 6

–December 11, 12, 13

–December 18, 19, 20 (listed as "tentative session")
Sports Betting is Key
While Iden has been an ardent supporter of online poker and casino games for his state, he values legalized sports betting as well. Putting it all together could be the key to spurring quick action by the Senate, as numerous other states have been legalizing sports betting this year and already have a leg up on Michigan on the national betting scene. Lawmakers may not be excited for internet slot games, but many of them are feeling pressure to make sports betting happen sooner rather than later.
MI seems to be saying "All I want for Christmas is #sportsbetting." https://t.co/ZcUpxGpKAm

— iDEA Growth (@iDEA_Growth) November 19, 2018
However, sports betting could also be a problem.
While other states have recently legalized sports betting without giving much consideration to an integrity fee for sports leagues, Iden claims to feel differently. He said that his education on the issue has led to the belief that integrity fees should be discussed for possible inclusion in the bill.
An integrity fee would give professional sports leagues and organizations a percentage of sports bets accepted by Michigan's casinos. Organizations like the National Basketball Association and Major League Baseball have insisted upon integrity fees from other states, but lawmakers have mostly ignored the pleas and not agreed to any type of royalties.
It is unclear why Iden is offering integrity fees as a point of discussion, but what is clear is that such a debate could derail the current legislation and push the bill off to 2019. A straightforward online gaming and sports betting bill has a much better chance of passing quickly this year, but a complication like the integrity fee puts it in jeopardy.
Iden makes no promises, but his confidence gives the online poker community hope that Michigan could be the fifth state to legalize the games, opening it up for a potential launch in late 2019 or early 2020. Analysts and lawmakers will have a better idea of Iden's chances in the coming weeks.
First @GunLakeCasino brings a poker room close to me and then online poker might become legal by the end of the year?! What a great christmas gift that would be to the West Michigan poker community! #puremichigan #getitdone https://t.co/psHOpiQDWE

— Charles McLanis (@chazmoneypoker) November 19, 2018
Related Articles