All Eyes on Adelson for Influencing DOJ Wire Act Decision
By
February 12th, 2019 | Last updated on August 12th, 2019
Home
»
Poker News
»
All Eyes on Adelson for Influencing DOJ Wire Act Decision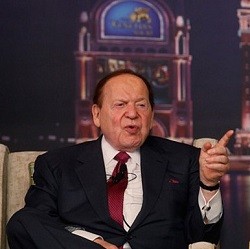 For anyone who has followed the course of online poker – and most types of internet gambling – in America over the past decade, the idea that casino magnate Sheldon Adelson influenced the latest Wire Act decision out of the Department of Justice is not a surprising one. It is abundantly clear to those who follow the issue that Adelson has lobbied and donated his way to the outcome he desired.
The refreshing change is that others outside of the online gambling industry are beginning to see it, too. They are putting the pieces together and realizing that Adelson may have bought the Office of Legal Counsel opinion that negates the 2011 one, relegating the Wire Act back to its original and antiquated interpretation. Essentially, Adelson may have been able to outlaw online gambling with his political donations that bought the required amount of influence.
As more media outlets and politicians notice Adelson's influence, they are beginning to question the legality of his actions. While this type of examination has potential to lead to an investigation into it all, it doesn't help those on the wrong end of the new Wire Act opinion now.
The Influence
In January, the DOJ's Office of Legal Counsel published an opinion that it had issued in November 2018. It overturned a 2011 opinion from the same office that found the Wire Act applicable only to sports betting, not to online lotteries, poker, and casino games.
It was under that 2011 decision that numerous states legalized online lottery ticket sales and four states – Nevada, New Jersey, Delaware, and Pennsylvania – legalized online poker. All but Nevada also allowed for online casino games. Pennsylvania has yet to launch its sites, but the others have been operating internet gaming for more than five years.
Adelson had been staunchly opposed to the idea that casino games should be offered online. After the 2011 decision, he launched a lobbying organization called the Coalition to Stop Internet Gambling (CSIG) and began to donate to members of Congress who might have the ability to pass a law to ban online gambling. Many of those Congressman did his bidding and tried to pass the Restoration of America's Wire Act (RAWA), or some version thereof, though all efforts failed. US Senator Lindsey Graham, however, went as far as to talk to US Attorney General nominees in the past two years about the Wire Act decision of 2011 and encourage them to consider reversing it.
After years of failing 2 ban Internet gambling, opponents (opponent, really) had a few short weeks between Sessions (recused on igambling) & Barr (federalism supporter) to get what they paid for. https://t.co/HZNmkzZeb9

— michelleminton (@michelleminton) February 8, 2019
Since so many people had failed Adelson, however, he took matters into his own hands.
The Wall Street Journal reported that Adelson had sent a memo to top officials in the Justice Department's Criminal Division in April 2017, just after the new Trump administration settled in. He asked that the DOJ reexamine its stance on the Wire Act based on information compiled by Charles Cooper, an attorney, former CSIG lobbyist, and former senior DOJ official. The memo was delivered to Darryl Nirenberg, another Adelson-paid lobbyist and author of RAWA, who delivered it to his DOJ connections.
"I am willing to spend whatever it takes," Adelson told Forbes in 2013.
While the DOJ denies that Adelson had no influence on the decision, a Washington Post source at the DOJ acknowledged that the memo from Cooper on behalf of Adelson did make the case for overturning the 2011 opinion, though memos to the DOJ are not illegal or inappropriate.
The Pushback
US Deputy Attorney General Rod Rosenstein didn't take long after the latest Wire Act decision was published to issue a 90-day delay on its implementation so businesses can prepare but also for the Criminal Division's Organized Crime and Gang Section to review and approve proposed Wire Act changes.
Meanwhile, questions and objections persist from all directions.
The New Jersey and Pennsylvania Attorneys General penned a stern letter to the DOJ to push back on the new opinion and request that it be withdrawn.
The US Deputy Attorney General under President George H. W. Bush, Peter Ferrara, wrote a scathing op-ed in USA Today calling the new decision appalling. "The 2011 DOJ ruling was consistent with the intent of the Wire Act and in line with the principles of federalism, which protects states' rights. The Trump Justice Department's reversal is not. In fact, the new opinion seems to have been directly based on the lobbying work of Adelson's team."
Ferrara also noted that the new DOJ opinion looked "eerily similar to the memo it received from Adelson's lobbyists" and called for ethics officers to take notice. He went on to note that President Trump himself has received "tens of millions in political donations from the Adelson family."
And last week, when the House Judiciary Committee held a hearing to ask questions of Acting Attorney General Matthew Whitaker, Maryland Representative Jamie Raskin brought up the Wire Act decision. Whitaker responded that he was not involved in the decision and had never met or spoken with Adelson. He said, "Your inference that somehow that process was corrupted or corrupt is absolutely wrong, and the premise of your question I reject."
RASKIN: Tell us who was behind the $1.3 million that you were paid before you came to the DOJ

WHITAKER: I don't know pic.twitter.com/yixUYx7uAt

— Aaron Rupar (@atrupar) February 8, 2019
Raskin then told HuffPost after the hearing that he would submit more questions to Whitaker about the Wire Act opinion. "This definitely bears further investigation," he remarked.
Rep. Raskin asks Whitaker about Adelson link to DoJ and its reinterpretation of the Wire Act! Thank you Rep. Raskin!

— michelleminton (@michelleminton) February 8, 2019
The Lingering Questions
There are many balls in the air pertaining to the result of the latest Wire Act decision, and no one can predict where they might fall.
What will become of the Criminal Division's review requested by Rosenstein?
Will Raskin pursue questions to the DOJ about Adelson's influence?
Will any part of the Mueller investigation result in unlawful or unethical connections between Adelson and members of the Trump administration that will affect the Wire Act opinion?
How will the DOJ respond to the Pennsylvania and New Jersey Attorneys General letter?
Will states like New Jersey and Pennsylvania take their case to court?
Some of the questions will be answered within the 90-day window imposed by Rosenstein. For now, it's a wait-and-see game.
Related Articles