Home
»
Top USA Betting Sites in 2021
By
April 27th, 2018 | Last updated on March 14th, 2021
Top USA Betting Sites in 2021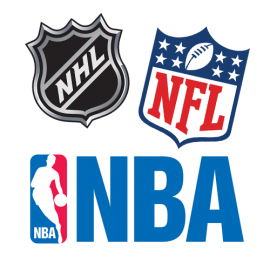 Top USA Betting Sites in 2021
Betting on sports has been popular throughout the history of the world. Everyone is not an athlete, so participation in sporting activities is limited to those with particular skills or abilities. Those who do not play may choose to watch, but they also tend to want to be invested in the games. The way to take part in the action without doing so physically is to wager on its outcome. And it has been happening since history has been recorded.
Whether legal or illegal, in the open or on the black market, people have been betting on everything from sports to horse racing since America took shape.
This page examines the current state of sports betting in the United States. Changes in recent years have made it difficult to find a solid summary, but we provide that below. In addition, we answer some common questions about online sports betting and explain how to participate in this classic pastime.
Betting Sites Accepting USA Players in 2021
The History of Betting in the United States
The American government has tried to outlaw sports betting many times as legislators tried to regulate its citizens ability to wager on anything. And the formation of national sports leagues prompted lawmakers to try to regulate betting to preserve the "integrity" of the games, but sports betting remained prevalent, though mostly in unregulated systems via bookies. Las Vegas opened its first regulated sportsbook in 1949, and many more followed, while the US government tried to collect a 10% federal excise tax on all sports bets, which stifled growth. However, in 1964, Congress reduced that tax to 2%, and legal sports betting thrived in Nevada. And 20 years later, the tax was reduced further to just 0.5% to allow Nevada's industry to grow.
Congress' 1961 Wire Act intended to crack down on racketeering and other criminal activities tied to bookmaking by making it illegal to bet on sports by telephones and telegrams, as well as by mail. But it wasn't until 1992 that sports betting took its biggest hit via the Professional and Amateur Sports Betting Protection Act, better known as PASPA. Congress passed the law under pressure by professional sports leagues, banning sports betting in all states except Nevada due to its established industry and Oregon, Delaware, and Montana, each of which offered sports lotteries prior to PASPA.
Downfall of PASPA
New Jersey issued the largest legal challenge to PASPA, which started when the state passed its Sports Wagering Act in 2012 to allow sports betting at New Jersey casinos and racing facilities. A number of prominent sports leagues challenged the law, headed up by the national Collegiate Athletic Association (NCAA), which filed a lawsuit against NJ Governor Chris Christie with the support of the National Basketball Association (NBA), National Hockey League (NHL), National Football League (NFL), and Major League Baseball (MLB). The state fought back in the US District Court, arguing that PASPA violated the 10th Amendment regarding states' rights.
The US District Court ruled in favor of the sports leagues, as did the Third Circuit Court of Appeals. The fight ultimately went to the United States Supreme Court, which first rejected but ultimately, in June 2017, agreed to hear the case. Oral arguments were presented in December of that year, and the court revealed its decision on Monday, May 14, 2018.
The US Supreme Court voted 7-2 to overturn PASPA via Murphy v. NCAA. (Governor Phil Murphy replaced Christie by the time the case was decided.) PASPA was essentially found to be unconstitutional, specifically that it violated the anti-commandeering doctrine of the US Constitution because it
"unequivocally dictates what a state legislature may and may not do."
The author of the majority opinion, Justice Samuel Alito, called PASPA an "affront to state sovereignty." He also noted,
"Congress can regulate sports gambling directly, but if elects not to do so, each state is free to act on its own."
Basically, every state in America was given the right to legalize and regulate sports betting.
New Jersey Builds on Supreme Court Victory
The New Jersey legislature wasted little time constructing an updated sports betting bill. The Assembly kicked it off with A.4111, introduced on June 4, 2018, to allow
"wagering at casinos and racetracks on certain professional and collegiate sports or athletic events."
The bill took on amended language, passed the Assembly on June 7 by a unanimous vote of 71-0, and it then passed the Senate on the same day – unanimously as well – by a vote of 37-0. Governor Murphy then signed the bill on June 11.
Several days later, on June 14, the William Hill sportsbook opened at Monmouth Park to accept its first single-game sports bet from Governor Murphy. The Borgata in Atlantic City followed within the hour, and Ocean Resort Casino opened its sportsbook on June 28.
That first month's revenue, albeit only for several weeks (and days for Ocean Resort Casino) showed total wagers of $16.4 million, the vast majority of that ($10.1 million) for MLB games and the rest ($2.2 million) for soccer. However, a total of more than $911K was placed on futures bets for MLB, NFL, and soccer games. And the total gross profits for the facilities from sports betting were $3.46 million.
In July, sportsbooks opened at Meadowlands and Bally's. By the end of July, the total wagers were $40.7 million, with the gross profits portion of that registering at $3.8 million.
By the end of 2018, sports wagering revenue topped $94 million. And that number grew exponentially in the following year. The casino licensees participating by the end of 2019 were: Bally's, Borgata, Golden Nugget, Hard Rock, Harrah's, Ocean Resort, Resorts, and Tropicana. And the racetracks offering wagering on sporting events were Meadowlands and Monmouth Park.
Total sports wagering revenue in 2019 hit $299,398,035.
The handle was $4,582,941,931 for the year, with the vast majority coming from online betting ($747,378,187 retail on-site betting and $3,835,563,744 online).
Delaware Technically First
It is important to note that Delaware also made a play for sports betting, and it did so before New Jersey. Technically, Delaware wanted to offer a new version of its sports betting lottery, as it was one of the few PASPA exemptions but wanted to expand beyond parlays and NFL games to allow single-game bets and wagering on sports besides professional football. But its attempts were defeated by District Court and US Court of Appeals rulings that the Delaware law violated PASPA.
After the May US Supreme Court decision, lawmakers gathered with Governor John Carney to organize a sports betting framework. Instead of passing new legislation, they ultimately decided to simply expand on the betting that had been allowed under the supervision of the Delaware Lottery since 2009. That allowed Delaware to move quickly to set up sports betting at its three racetracks – Dover Downs, Harrington Raceway & Casino, and Delaware Park.
Governor Carney made the first bet at Dover Downs on June 5, one week before New Jersey.
Delaware collected $1 million in sports betting revenue in its first month in 2018. Those numbers increased in the months that followed, though it is important to note that Delaware sports wagering is limited to retail. Bettors must place their wagers at one of the three racinos in the state and via Delaware Lottery retailers (parlays only). But by the end of 2019, they did show $132.5 million in handle for that year, which generated $19.5 million in revenue.
Lawmakers do not seem prepared to open sports betting to mobile or online options, so the revenue will be limited for the foreseeable future.
States with Legal Sports Betting
As of the mid-term elections in November 2018, there were several states accepting sports bets:
Arkansas
Colorado
Delaware
Illinois
Indiana
Iowa
Michigan
Mississippi
Montana
Nevada
New Hampshire
New Jersey
New Mexico
New York
North Carolina
Oregon
Pennsylvania
Rhode Island
Tennessee
West Virginia
States Considering Sports Betting Legalization
Numerous states have been considering sports betting. There is legislation in some form being considered in the following states as of the first few months of 2021:
Alaska
Arizona
California
Connecticut
Florida
Georgia
Kansas
Kentucky
Maine
Maryland
Minnesota
Missouri
Nebraska
Ohio
South Dakota
Virginia
Washington
Wyoming
Supporters of Legal US Sports Betting
1. The primary supporters of legalized sports betting in America are sports fans. People around the country have been betting on sports – whether in fantasy leagues, office pools, or in Nevada sportsbooks – for decades, and millions of people are happy that they can now do so in more states and with the protection of state and federal laws.
2. Many state governments are also enthusiastic about legalized sports betting. Gambling has always been a revenue generator for many states, whether from pari-mutuel wagering, lotteries, or some form of casinos and card room activities. Due to the immense popularity of sports and related wagering, many state legislators are clamoring to legalize this type of betting in order to establish a new revenue stream.
3. Casinos, racinos, and race tracks are excited to get in on sports betting action as well. Any gambling establishment will attract customers, but the offering of a sportsbook on that property is a way to attract new customers and persuade them to remain in the casinos for longer periods of time. Not only is the sportsbook a profitable endeavor, it can lead to more revenue in other areas due to patrons staying to watch games, settle bets, and gather with other sports-loving customers.
4. Operators of sports betting technology, sports betting apps, and online sports betting options also have the opportunity to enter the US market and expand. With the growing need for more operators to handle the needs of sportsbooks, competition is already growing and generating business for numerous new and expanding companies.
5. Television and other media companies have the chance to benefit greatly from the growth of a sports betting industry in the US. Not only will it create new lines of advertising revenue and business partnerships for television and radio stations and networks, more sports fans can translate into other forms of revenue. Viewers may spend more time watching and listening to games due to pending wagers, and they may take new interest in sports due to the ability to bet on them.
Opposition to US Online Betting Sites
1. The staunchest opposition to US accepted sports betting sites has come from groups and organizations that help problem gamblers and try to prevent a rise in gambling addictions. Groups like the National Council on Problem Gambling express concern at any broadening of legalized gambling, but sports betting has been especially concerning to these organizations because of the prevalence of sports fans that may take casual interest in games to a new level with wagering. While these groups are generally opposed to gambling expansion in general, they also try to influence states and regulatory agencies to adopt strict responsible gambling safeguards that may protect customers.
2. There are also groups like Sheldon Adelson's Coalition to Stop Internet Gambling, which oppose all online gambling that may present competition to land-based casino gambling. Adelson's efforts seem to be propelled by his desire to protect his casino profits, though the arguments against online gambling – including sports betting – are often cloaked in fears of underage gambling and money laundering due to a greater access to internet wagering.
3. Congress has shown itself to be very wary of the framework established by the May 2018 US Supreme Court decision regarding PASPA. As soon as the ruling was announced, members of Congress like Republican Senator Orrin Hatch and Democratic Senate Minority Leader Chuck Schumer immediately called for hearings to discuss potential federal oversight of the new industry in some form. The first hearing did happen in the House Subcommittee on Crime, Terrorism, Homeland Security, and Investigations in September, and despite a great deal of testimony upholding the precedent that gambling issues should be handled by individual states, some lawmakers want to explore some type of federal regulation further.
4. Sports leagues were pegged as the primary opponent to legalized US sports betting, as some of the major professional sports organizations were the plaintiffs in the US Supreme Court case. League spokespeople warned of integrity issues with regard to the games and the erosion of public confidence in the games. Leagues also complained about the potential costs of educating players and monitoring wagering trends.
This prompted the idea of an integrity fee. Sports leagues responded to the US Supreme Court decision with calls for states offering online sports betting to pay an integrity fee, or tax of sorts, to the sports leagues upon which wagers would be placed. However, without Congress to bargain for such a fee and considering states were already legalizing and implementing their own sports betting industries and ignoring talks of integrity fees, professional organizations realized they had little leverage.
The first statements from leagues after the US Supreme Court decision were full of fearful language. The National Football League and National Basketball Association called for immediate assistance from Congress for a regulatory framework. Major League Baseball lamented the "profound effects" of the decision on the game. The National Hockey League warned of an "entirely different landscape."
However, some leagues were more forthright about the potential effects of the new betting realm. As the NBA's Dallas Mavericks owner Mark Cuban said,
"I think everyone who owns a top-four professional sports team just basically saw the value of their team double."
It didn't take the leagues long to realize that they were not going to receive integrity fees and would not be able to negotiate with Congress for additional benefits, which meant they had to begin to embrace the positive possibilities.
And they did.
The first major deal was announced in July. The NBA announced MGM Resorts as its official gaming partner. The National Basketball Association will offer real-time data to MGM properties and affiliates pertaining to NBA and WNBA games, and the league will receive an alternative to its proposed integrity fee in the form of the multi-million-dollar deal.
In October, MGM Resorts entered into a similar partnership with the National Hockey League. And the NHL deal was even more far-reaching, as MGM will be the official resort destination of the league.
At the same time, the NFL's New York Jets signed a deal with 888 Holdings, a sponsorship deal that followed others, such as the Dallas Cowboys with WinStar World Casino and the Baltimore Ravens with Harrah's Baltimore.
Ultimately, sports leagues will benefit from legalized online US sports betting. Per a 2018 study by the American Gaming Association, the four largest professional sports leagues will see combined revenues of more than $4.2 billion per year as a result of the new market, monies to be earned through television advertising, sponsorships, data and product sales, media rights, and ticket sales. In fact, the revenue impact is predicted to be:
NFL = $2.3 billion
MLB = $1.1 billion
NBA = $585 million
NHL = $216 million
What Deposit Options Exist for American Bettors?
Next to finding a reputable sportsbook, the most challenging task to betting online is finding a deposit method. The following are the methods we've found to work.
Visa – Visa is accepted everywhere. It's a convenient, simple to use and fast. Just punch in your numbers, how much you want to deposit and hit submit. Your money should be available within minutes. The biggest downside to Visa is that you're leaving footprints for your bank to follow. You may also face the occasional decline.
MasterCard – Same as Visa, except not accepted at all sportsbooks.
Money Order – A money order is a form of payment paid in advance to your bank or post office. Sportsbooks prefer these because it's not possible to issue a chargeback.
Bitcoin – This is the virtual form of paper checks. To make a deposit all you need is your checkbook. Just enter your account, routing and check number, how much you want to deposit, and hit submit.
Money Transfers – Go to your nearest MoneyGram or Western Union office (or to their website), give them the money and tell them where to send it, and they'll ship it for you for a nominal fee. This is an ideal option because no footprints are left between you and bank.
Deposit Bonuses: The What, Why & How
The next thing I want to discuss are deposit bonuses. If you're new to a sportsbook, chances are that you'll be offered one. But often they're too good to be true, so you need to arm yourself with knowledge so that you're not taken advantage of. So here is the what, why and how of deposit bonuses.
What: Deposit bonuses are incentives. The objective is to get a new player to sign up and make a real money deposit with the promise that their deposit will be matched (a percentage). For example, a 100% deposit bonus up to $600 would mean that for every dollar you deposit, the book will match it (100%) to a max of $600.
Why: Nearly every book, casino and poker room does it. So often books need to offer a bonus just to keep up. They do it to distinguish themselves too. A deposit bonus also encourages new customers to take action now, thinking that they will receive double their money (or more/less) free.
How: This is the part where things get tricky. When the American betting website gives you a deposit bonus, before you get to keep the money you need to make some real money bets. How much depends on the books' requirements.
For example, Bovada's requirements are that you wager 3x the deposit amount plus bonus on their 50% offer. So if you deposit $100, you'll get $50 in free money. However, before you can make a withdrawal you'll need to wager $450 first (($100+$50) 3).
It's important that you read the terms and conditions before signing up and accepting the bonus. Aside from accidently signing your life away, you want to make sure the bonus offer is reasonable (they don't make you wager $50,000 for a $500 bonus) and so you don't accidently do anything that can void your offer, such as cashing out.
Pitfalls American Sports Bettors Need to Avoid
Here are some common pitfalls we recommend new (American) sports bettors avoid.
Signing up to large books. Often the largest, most touted books are the most shady. They offer large commissions to websites to push potential bettors their way. History tells us that this hardly ever ends well for the customer.
Relying (heavily) on review sites. Many of the larger review sites (like Sportsbook Review (SBR)) are biased. The push the books that offer the largest commissions. Furthermore, sites like this have a documented history of pushing books they know to be scams.
Using credit cards (if other options exist). As mentioned above, credit cards leave footprints that your bank (or other officials) can follow. This can lead to account terminations or possible (rare, but legal) consequences. It's in your interest to avoid credit cards if possible, and to instead use gift cards, prepaid cards, money orders or transfers.
Following sports picks. The majority of people or companies offering sports picks are scams. They highlight their wins, downplay their losses and are essentially breakeven bettors themselves. Why pay someone to breakeven, and at worst, to lose your money? You can lose on your own.
There are exceptions to every rule, of course. Just do your due diligence, talk to your peers and use some common sense. You should be fine then.
FAQs About Gambling at Online Casinos in the USA
Here are some commonly asked questions and answers regarding betting on sports online.
Is it illegal to bet on sports in America?
This depends on the state. Many states do have regulated sports betting options now. Even if the state does not regulate their own sites, there are sites like the ones we listed above that do accept American bets.
Are there any online sportsbooks licensed and regulated in the USA?
Yes. Again, this depends on the state. Several states, like New Jersey, do offer online sports betting through sites that are partnered with the land-based casinos in Atlantic City. Some states are still wary of offering internet sports wagering, but as they see the type of revenue for states like New Jersey, they are more open to discussing it.
Sportsbook _____ stole my money. What can I do?
Not a lot, sorry. You might try talking to some of the bigger forums. Often they can act as a mediator (especially if they advertise for the room). This can get you some or all of your money back.
Push come to shove, after bugging the room for your money, you might make an offer to settle for a fraction of it. It's better than being stiffed for the total amount.
Will I face legal trouble if I place bets online?
Unlikely, based on our research. But we're not lawyers or officials. So you should still do your own due diligence, follow the laws in your area, and if you have any questions, contact your local law enforcement or lawyer for more clarification.