Home
»
US Online Poker Allies & Enemies
By
July 8th, 2018 | Last updated on January 6th, 2021
US Online Poker Allies & Enemies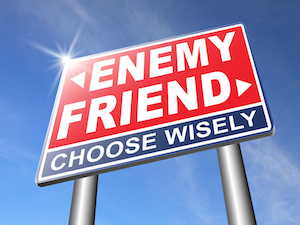 US Online Poker Allies & Enemies
The fight for online poker in the United States has taken many forms and spanned more than a decade. Some organizations have come and gone, politicians have retired, and times have changed. But it remains important for those interested in legal online poker – whether fans, players, operators, or other industry participants – to be able to identify allies versus those who want to see online poker banned.
In the early 2000s, efforts to legalize online poker took place at the federal level, with bills introduced to Congress by several members of Congress. At that time, the focus was solely on poker, due to the ability to prove it as a game of skill. It was also a national effort, though most bills contained a clause that allowed states to opt out should their individual governments decide against participation for residents in their states.
The passage of the Unlawful Internet Gambling Enforcement Act (UIGEA) in 2006reinforced the need for a federal law, not only because of the ambiguities of the UIGEA but to carve out online poker as a separate entity from other forms of internet gambling. Online poker advocates continued to push for bills in Congress.
Two major events in 2011 changed everything. The first was Black Friday, on August 15, 2011, when the US Department of Justice seized the domains of PokerStars, Full Tilt Poker, Absolute Poker, and UltimateBet while revealing indictments against executives of those companies.
The crackdown on internet poker in America using the UIGEA solidified the need for online poker legislation. However, in November of that same year, the same Department of Justice issued a ruling regarding the Interstate Wire Act of 1961, also known simply as the Wire Act.
The legal opinion stated that the Wire Act did not apply to any gambling outside of sports betting, which was widely translated to mean that individual states could legalize and regulate other forms of online gambling, such as lotteries, poker, and casino games.
While the fight for legalized online poker continued at the federal level, the Wire Act decision allowed states to make their own laws. Nevada did just that, legalizing poker online, while Delaware and New Jersey authorized internet poker and casino games. Pennsylvania followed years later in 2017.
Today's online poker fight may be different than it was in 2003 or 2006, but it continues to be as important as ever. There are legalization bills in state legislatures throughout the US, while occasional bills also emerge in Congress, some to legalize internet poker and others to ban all online gambling.
With all of the various actions happening at different levels of the American governmental framework, it is vital to identify the allies and enemies of online poker.
Online Poker Allies – Organizations
Poker Alliance (formerly Poker Players Alliance)
Originally launched as the Poker Players Alliance (PPA) in 2005, the lobbying organization was established as a membership-based, non-profit organization and quickly grew to a major force in the industry with more than one million members.
The goal of the PPA was to legalize internet poker, whether on the state or federal level, and protect the game from those wanting to ban it. The group had a multitude of functions, including lobbying members of Congress to testifying in state legislative hearings, while also occasionally stepping in to various court battles that required expert testimony or support.
Over time, the group also took to supporting online gaming in general, as states like Delaware and New Jersey wanted to legalize internet poker along with other casino games, and many other states considered the same type of coordinated gaming bills.
In the beginning of 2018, the group shifted from a membership-supported organization to a privately-funded poker advocacy group called the Poker Alliance. With President Mark Brenner at the helm, the successor group decided to focus on internet poker but dedicate itself to advancing poker as a sport in all forms in the United States.
This organization has been on an unexplained hiatus since the spring of 2019, having done little in the way of promoting online poker since then.
iDevelopment and Economic Association (iDEA)
The iDevelopment and Economic Association, better known as iDEA, was formed in 2017 to as an advocacy organization for online gaming and entertainment in the US market.
It was founded by Jeff Ifrah, an attorney well-informed about the online poker and gaming industry and known by some for his role as a legal representative of Full Tilt Poker during its most tumultuous times.
iDEA grew out of a need for more public support of online gaming and the expansion of the industry. As noted by the group itself, interactive online entertainment is a multi-billion-dollar global industry that includes online poker, social and mobile games, sweepstakes and lotteries.
That industry is growing in the US, but legislative and regulatory barriers keep the American market from realizing its job growth and industry expansion potential.
The organization aims to educate citizens and lawmakers alike about the online gaming industry and does so with the support of companies like Stars Group, Golden Nugget, Paddy Power Betfair, GVC, Pala Interactive, Paysafe, and 888.
National Governors Association et al
Many groups have taken a stand in one form or another to oppose internet poker prohibitions.
The National Governors Association is one that went beyond signing on to group letters with several attempts to stop bans, whether from RAWA efforts or the US Department of Justice.
Strong letters have been sent to Congressional leadership and the US Attorney General, the latter taking place most recently in April 2017 via a letter to AG Jeff Sessions encouraging states' rights in the online gaming realm.
All of these groups have been involved in some way:
National Governors Association
Democratic Governors Association
National Conference of State Legislatures
Fraternal Order of Police
Citizens Against Government Waste
Wired Safety
Competitive Enterprise Institute
FreedomWorks
Independent Women's Forum
R Street Institute
Taxpayer Protection Alliance
Institute for Policy Innovation
American Consumer Institute
Online Poker Allies – Lawmakers and Influencers
Quite a few members of the US Congress have stood up for online poker rights and freedoms, both on the state and federal levels.
While some like former US Representative Barney Frank (D-MA) have retired from Congress and public life, others like former US Representative Ron Paul (R-TX) continue to maintain a public presence and fight for the rights of online gaming advocates. And several current members of Congress have taken a stand for online poker or gaming.
Current Members of Congress in Support of Online Poker
US Representative Bennie Thompson (D-MS)
US Representative Guy Reschenthaler (R-PA)
US Representative Frank Pallone (D-NJ)
US Senator Robert Menendez (D-NJ)
US Senator Cory Booker (D-NJ)
US Representative Josh Gottheimer (D-NJ)
US Representative Albio Sires (D-NJ)
US Representative Bonnie Watson Coleman (D-NJ)
US Representative Bill Pascrell Jr. (D-NJ)
US Representative Donald Payne Jr. (D-NJ)
US Representative Dina Titus (D-NV)
Allies & Influencers
Former US Representative Ron Paul
Grover Norquist
Michelle Minton
Online Poker Enemies – Lawmakers and Influencers
Coalition to Stop Internet Gambling (CSIG)
At the start of 2014, casino mogul and billionaire Sheldon Adelson launched the Coalition to Stop Internet Gambling, a lobbying group established to stop all efforts to legalize internet gambling on the federal and state levels.
The proactive method used by CSIG has been to find legislators opposed to internet gaming and enlist them to sponsor bills in Congress to ban all forms of it. The Restoration of America's Wire Act (RAWA) is the preferred avenue, which would restore the 1961 Federal Wire Act to its original interpretation with the added caveat that wired communications include all forms of internet. It would nullify the 2011 Department of Justice decision about the Wire Act and remove the ability of states to create their own online gaming laws, essentially voiding the online poker and gaming laws of Nevada, Delaware, New Jersey, and Pennsylvania.
The group claims to support a ban on internet gambling because of dangers like money laundering, terrorism financing, fraud, gambling by minors, exploitation of addicted gamblers, and negative impacts on land-based casinos. Through catch-phrases like "Click your mouse, lose your house," the CSIG aims to scare the public about internet gambling while ignoring the effectiveness of internet safeguards to protect from true dangers and facts that disprove their allegations of terrorism financing and negative economic impacts.
Online Poker Enemies – Lawmakers and Influencers
US Attorney General Jeff Sessions
US Senator Dianne Feinstein (D-CA)
US Senator Lindsey Graham (R-SC)
US Senator Marco Rubio (R-FL)
US Representative Brian Fitzpatrick (R-PA)
US Representative Louie Gohmert (R-TX)
US Senator Mark Warner (D-VA)